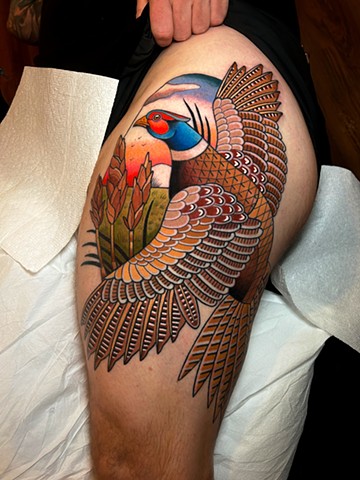 Thank you for taking the time to look at my work. My name is Dave Wah and I am a tattoo artist at Stay Humble Tattoo Company in Baltimore, Maryland. I am proud to say that I work with the very best tattoo artists in Maryland, possibly the best collection of tattoo artists on the east coast. They are my friends and my second family. The unique styles of the artists at our shop is what makes Stay Humble Tattoo such an amazing place. Every artist at our shop has something special to offer the world of tattooing.
I've been a tattoo artist in Maryland for almost 20 years, and I can still say that I approach each project with excitement and passion. I want to be the best tattoo artist I can be. My work is part of my legacy and I strive to leave no doubt that I worked my hardest to be nothing short of amazing.
I do my best to set a positive example for my 2 daughters and my son. They will hopefully look back one day and realize how hard I worked to provide for them, and to show them the possibilities in this beautiful world we live in.
I would be nothing without my wife Gina, who not only supports me in literally everything I do, but is also the person who encouraged me to achieve my dreams through tattooing.
I only do work in my style of tattooing, which is the style that you will see in my portfolio. I focus mainly on birds, animals, and nature related tattoos, however I have been doing many car, truck, and plane tattoos. I also will do other vintage inanimate object tattoos. Please feel free to email me your idea, however I apologize if your idea is something I can't do for you. I have a specific interest in the tattoo projects I choose to commit to.
As of March of 2023 I took a step back from social media. I currently only post about once a week and I don't keep the apps on my devices. As my career has progressed I have found that I no longer yearn for the attention or approval from others to validate my work. In the past I would go on social media to be inspired by all of the amazing tattoos being created everyday, but now the apps rarely show me work from the people I follow. The simple act of showing up at the shop and tattooing is all the fulfillment I need. I love tattooing. I love waking up early everyday and drawing. I love everything about it. I am also thankful for every single person who chooses me to do their tattoo. These days the wait is very long, and I am so appreciative to have such dedicated clientele. I can promise you I will work my hardest to make your tattoo incredible.